AMRI Members Gather for Annual Conference and AGM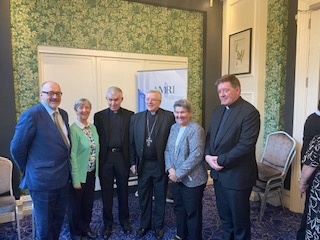 The AMRI Leaders Conference and AGM 2023 was  held recently in the Tullamore Court Hotel. The keynote speaker was  Sr Lynn Levo CSJ. She spoke on the topic of "Regenerating the Soil of Our Lives – Embracing and Accompanying Change."
The Conference was opened by the outgoing President of AMRI, Abbot Brendan Coffey. Over 200 delegates attended over the two days.
Sr Lynn reminded all the delegates that,
'Change is inevitable, unavoidable and constant and you as leaders have a choice about how to respond.  Embracing change – not digging in, denying or resisting change – offers an opportunity to move beyond old patterns of seeing and acting, shifting how you think, know and act together with your members.' She was able to present examples of creating a cultured climate receptive to change. She also noted, 'leading change and accompanying members as they cope with personal and communal changes with a renewed sense of purpose and hope."
This conference continued the conversation from last year on being a leader in a time of change.
The Conference also welcomed Archbishop Luis Mariano Montemayor Apostolic Nuncio to Ireland.
Archbishop Francis Duffy also attended and represented the Irish Episcopal Conference.
View Gallery HERE