You Are Warmly Invited to a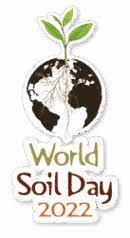 , which is on December 5th.  To join webinar see zoom link below.  
         'THE ENTIRE MATERIAL UNIVERSE SPEAKS OF GOD'S LOVE, HIS BOUNDLESS AFFECTION FOR US.  
          SOIL, WATER, MOUNTAIN: EVERYTHING IS, AS IT WERE, A CARESS OF GOD.' Pope Francis, Laudato Si 84 
TOPIC: 'SOIL IS LIFE – it's The Source of all our food'
Presenter:  Cathriona Russell, Assist Professor of Theology, Trinity College Dublin.
Date: Tuesday 22nd November
Time: 7.15 – 8.15pm
To participate, click on this zoom link:
https://us02web.zoom.us/j/84539503854?pwd=Y0FtOTlYQ0ZqUkkwc1lWWnc2UmNSUT09