Religious and Missionary Leaders gather in conference in Tullamore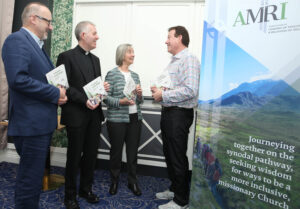 A great sense of hope and joy was palpable among the participants, at AMRI's leadership conference, held in the Tullamore Court hotel on September 28th and 29th. Almost 200 sisters, brothers and priests; leaders of congregations and members of leadership teams gathered in person for the first time in three years.
Keynote speaker, Dr Ted Dunn, author of 'Graced Crossroads' challenged participants to do the inner work of transformation so that religious and missionary life may flourish again. He encouraged us to journey to new life – to let go of the old, to let God be found in chaos and creation, so that a new beginning may come. The external changes of restructuring and reconfiguration will falter without the inner work of transformation, that deeper invitation to us from God to be transformed. He reminded us that: "it is pain that brings us to a crossroads but Love that pulls us through."
The 40th anniversary of the Religious Formation Ministry Programme (Loreto House) was celebrated at the conference dinner, when past directors of the programme were present. Over 1010 students have been through the programme which today serves the Church in the global south in terms of forming leaders and formators for the future.
Sr Eithne Woulfe, who retired as AMRI's and previously Cori's director of education, was acknowledged and thanked for the very significant contribution she has made to Catholic education.
The conference included the launch of AMRI's new strategic plan: 'A Future with Hope', which aims to chart the future of religious and missionary life in Ireland for the next five years.